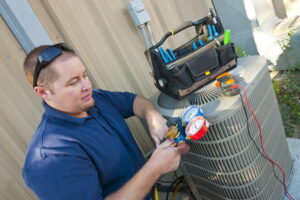 Would you like to prevent an inconvenient air conditioning breakdown? Do you want to avoid expensive air conditioning repairs? Then you need annual air conditioning maintenance. Now we're not working any magic, at some point along the way your air conditioning system will age, but you can avoid catastrophic HVAC disasters with routine maintenance. If you need a reliable HVAC contractor in all DFW metroplex, our technicians at CityLine Air Conditioning won't disappoint.
How Maintenance Helps
Save Money
Routine air conditioning maintenance helps you save money. You'll save money by avoiding costly emergency repairs. Emergency repairs aren't only expensive because they're urgent, they're also expensive because once your air conditioning problem has gotten to the state of emergency it's a very advanced issue that has probably damaged your system.
You'll also save money due to your efficiency. Routine maintenance keeps your system in tip-top shape. A system that runs efficiently will help lower your energy bill. An old poorly maintained system will use more energy to perform baseline tasks, spiking up the cost.
Avoid Inconvenient Breakdowns
Have you ever had to go without air conditioning in hot Dallas heat? It's not an ideal situation, especially once you've become accustomed to having air conditioning in your home. If you don't have routine maintenance done you're putting your system at risk for a breakdown. The longer you wait to have a technician service your system, the more likely something is to break. Don't tempt fate—get air conditioning maintenance.
What to Expect from Maintenance
You've probably heard many people sing the praises of maintenance before, but when it gets down to it, what does the service actually include?
A visual inspection of both your indoor and outdoor units
A fan assessment
Air filter replacement and a cleaning of your ducts to maintain healthy indoor air quality
A condensate drain examination to check for clogs, obstructions, or leaks
An inspection of the electrical connections
Lubrication of all the moving parts
A check for the right amount of refrigerant
A measure of the airflow through the evaporator coil
A check of the thermostat's accuracy
Our Maintenance Program
When you join our maintenance program we wave your overtime charges, give you priority status over customers unenrolled in this program, give you inflation protection up to three years, and discounts depending on your service level.
We offer three levels to our program: silver, gold, and platinum. Silver is our basic package with one visit a year. The gold package upgrades you to two visits a year, a 10-year warranty on repairs, and 10% discounts on parts. Platinum gets you one free service call, two annual maintenance visits, a lifetime warranty on parts, a 10% discount on parts, and a 5% discount on new equipment. Enroll in our program and let us keep your HVAC system in top shape.
Choose CityLine Air Conditioning
At CityLine Air Conditioning, we're a family owned and operated business that's satisfied customers since 2005. We take our job very seriously and pride ourselves on quality work done in a timely fashion.

Tags: AC Maintenance, Dallas
September 24, 2018 | Categories: Air Conditioning