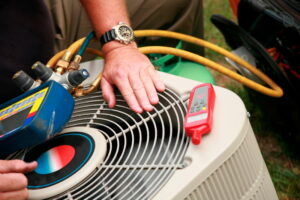 Entering fall in most places across the country means a switch from cooling to heating, but here in Dallas, it's more likely that you're still heavily relying on your AC to keep you cool. After a long summer of cooling, fall might bring notice to a few, common air conditioning issues. At CityLine Air Conditioning, our top-tier technicians are trained to help you fine tune your air conditioning in all DFW metroplex to get through these last few weeks of warm weather with a high performing system. If you're experiencing any of the issues listed below, schedule an appointment with us.
Refrigerant Leaks
One of the most common air conditioning problems is refrigerant leaks. Refrigerant leaks occur when the refrigerant lines or coils have corroded. This isn't something that can be fixed by just adding refrigerant to your system. An experienced technician needs to come out and repair the system, test the repair, and then charge it with a level of refrigerant up to the manufacturer's standard.
Dirty Filters
If you find that your air conditioner isn't working properly, one of the biggest culprits is typically a clogged or dirty air filter. You should be changing your filter according to the manufacturer's suggestions. These suggestions can vary from once a month to every three months. If you're not sure what you're looking for when it comes to a dirty filter, you can have a trained technician survey the system and determine if your filter is dirty and if that's the root of your air conditioning issues.
Drainage Issues
We're prone to humid weather here in Dallas, and these moisture levels can cause issues with your condensate drain. A large amount of moisture causes algae inside the drain or drain line to grow and slow or even clog the drainage process. This can cause the drip pan to overflow and cause a bevy of other problems like water damage, mold, and mildew growth. To avoid these issues that greatly effect the quality of air in your home, have regular maintenance done on your system or schedule an appointment to have a technician come out at the first sign of damage.
Strange Noises
The first sign many homeowners notice when they have air conditioner issues is strange sounds coming from their system. There are many reasons why you might hear startling noises coming from your system, a fair amount of the reasons relates back to your blower motor, but some may indicate problems with the electrical wiring or loose parts. Instead of playing a guessing game, have a professional who understands the intricate details of your system come out, assess your system, and tell you what the definitive problem is.
Get Our Help
CityLine Air Conditioning is a family owned and operated business that's been keeping our customers satisfied since 2005. We're committed to efficiency and satisfaction of our customers, so we only employ the best technicians with extensive knowledge of heating and cooling systems.
If you're having AC troubles, contact us today to schedule a service.
Tags: AC, AC Problems, air conditioner, Dallas
September 10, 2018 | Categories: Air Conditioning