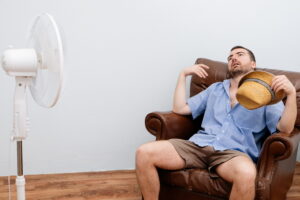 Could be! Okay, that's not exactly a helpful answer to the question. However, it is important to keep in mind that there are a lot of different factors that will have to be considered in order to determine if the time is right for an air conditioning replacement in all DFW metroplex. We cannot just give you a concrete answer in a general blog post. That being said, we can give you some tips that will help to get the decision-making process rolling in an informed manner!
One point that we can make in a declarative fashion—it is never going to be in your best interest to wait for your air conditioning system to break down entirely before replacing it. Sure, you are going to want to get the most from your system, which means running it for as long as possible. Cashing in its chips a bit early and replacing it before it gives out completely, however, is definitely the way to go.
Keep the System's Age in Mind
Yes, the age of your system is going to play a role in determining whether or not it is time to replace that system. It may not be as huge of a role as you think, though. The fact is that, while all ACs have projected lifespans, they are not set to self-destruct once they hit that age or anything. If your AC is well-maintained throughout its lifespan, it will probably continue to function well beyond that projected lifespan.
So how should you use the age of the system to inform this decision? You can keep it in mind as it relates to a number of other factors. It is an influencing factor, not the deciding factor that some homeowners might expect. What else should it be weighed with (and against)?
Consider Efficiency Levels, Too
This is a great example of why age is not necessarily the primary factor to consider if you're thinking about replacing your air conditioning system. Yes, an old AC may lose some of its capacity for efficiency over time. It is also possible that a very old system was manufactured at a time when expectations of efficiency were lower.
However, you may have also bought a relatively low-efficiency system by choice in order to save some money at the time of purchase. You may also have inherited a low-efficiency system when you purchased your home. In either event, regardless of age, low efficiency is definitely a valid reason for considering an AC replacement.
Overall Satisfaction
Sometimes, homeowners rush into decisions. If you did this when choosing your AC, well, you may not have wound up with the ideal type of air conditioner for your needs. We can help. Give us a call, discuss your available options, and know that our technicians will make sure that you get the perfect AC not just for your needs but for your equally important personal user preferences.

We use our air conditioners way too much around here to settle for a performance that is only "good enough." It's just not good enough!

Schedule your AC services with CityLine Air Conditioning.

Tags: AC, AC replacement, air conditioner, Air Conditioning Replacement, Carrollton
July 16, 2018 | Categories: Air Conditioning