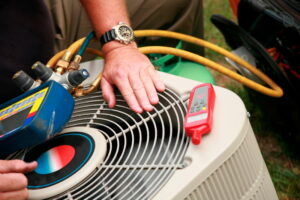 We're making the hot transition from spring into summer now—have you decided that it's time for an AC upgrade? This is something many homeowners realize during this time of year. Although this is typically a begrudging realization it's always best to start the process of your upgrade sooner than later. If the prospect of an upgrade like this is a little daunting you can count on our team at CityLine Air Conditioning. We're a team that specializes in AC installation in Dallas, TX. If you want a group of responsible service professionals with all the right knowledge to keep your home cool make sure you contact our team to schedule an appointment.
Why Bad AC Installation is Such a Big Deal
You might read the word "ruin" and balk of the severity of the term. We want to ensure you that we're not being dramatic with that word choice. Poor installation services will ruin the quality of your air conditioner. Your air conditioner will never reach its full capacity if your installation services are poor. A poorly installed air conditioner makes room for leaks, gaps, and other inconsistencies in your cooling quality. You need to make sure that you have a responsible team that understands how to match the needs of your home with the right air conditioner.
What Finding an Air Conditioner Entails
You might read through this blog post and think to yourself… "Well, how hard can finding a good air conditioner be?" Pretty difficult actually! There are quite a few factors that go into finding the right air conditioner past choosing the right make and model. You need a professional to help you do the following:
Assess the Needs of Your Home
The air conditioner capacity that your home requires will be vastly different depending on your home. A two-story home has different needs than a one-story home. You might realize this on your own—it's common to struggle with a stuffy second floor in you live in a two-story home. Do you realize the other sources of heat in your home though? Every window facing sunlight, kitchen area, vehicle, and even person in your home adds to the overall heat in your space.
We don't just take a wild guess when it comes to determining the needs of your space. Our team members make a precise calculation to determine the amount of air conditioning that you need.
Choose the Best Brand
If you've already started on your hunt for a new air conditioner you've surely realized that there are so many brands of air conditioners on the market. Trying to sift through the promises of each of these brands and find the best unit for your needs is overwhelming to say the least. If you need a great brand recommendation you can count on our staff.

We're proud of the service we provide so we make sure that we only work with the best brands available. We'll help you find what you need for your Dallas home!

Bad air conditioning installation can ruin your home comfort. If you want to ensure that you have great air conditioning in Dallas, make sure you contact our team at CityLine Air Conditioning to schedule an appointment today.

Tags: AC Installation, Dallas, Poor AC Installation
June 3, 2019 | Categories: Air Conditioning