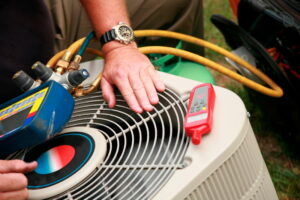 We've reached that time of year where a lot of homeowners realize the honeymoon period with their air conditioner is over. If you neglected to have a tune-up performed on your air conditioner before the high temperatures hit or if you're still nursing along some problems from last summer you've probably noticed that your air conditioner issues have started to rear their ugly head again. Let this inconvenience inspire you to take a different plan of action and schedule AC repair services in Dallas, TX with our team.
We're a family owned and operated business that's worked here in Dallas since 2005. When you come to our team we'll treat you like family too! We go above and beyond to provide quality work to our customers.
What Is Short Cycling?
We want to take a moment to break down what the term "short cycling" means. If you're experiencing short cycling in your home, you've probably noticed the problem but haven't been able to find a term to describe it. Short cycling is when your air conditioner turns on, runs for an extremely short amount of time, shuts off, and then turns on again shortly after. Short cycling is incredibly hard on your air conditioner and even harder on your air conditioning bill. Make sure that you contact our team when you need quality service done right.
What's Causing Your Short Cycling?
Short cycling occurs when there's something that's preventing your air conditioning unit from completing its full cooling cycle. A full cooling cycle occurs from the moment that the unit turns on until the moment that your home reaches the temperature set on the thermostat. If you're having trouble with short cycling in your home the culprit could be any of the following:
A Clogged Filter: Do you change your air conditioner's filter regularly? If you don't then you're doing yourself a big disservice. You should change or clean your air filter (depending on the type of filter you have) at least once a season. If you're not doing this regularly then you could be causing a fair amount of short cycling in your home.
Leaking Refrigerant: There's a common misconception among homeowners that your refrigerant "runs out." You shouldn't ever have your refrigerant run out in your air conditioner. If you're low on refrigerant it's because of a leak. Leaking refrigerant can easily lead to malfunctions in your air conditioner that cause short cycling. Contact our team today if you're experiencing this issue.
An Improperly Sized Air Conditioner: If your air conditioner is too large for your home then you'll probably experience your fair amount of short cycling. A system that's too large will put out way too much cool air at once and cause your system to short cycle because the cycle can't be completed efficiently.
There are many different things that can cause an air conditioner to short cycle—not all of them are listed above. If you need a great team to pinpoint the root of your problem make sure you contact us.

If your air conditioner is short cycling it's time to call a professional. You can rely on our conscientious team members at CityLine Air Conditioning today to schedule an appointment.

Tags: Dallas, Short Cycling
May 20, 2019 | Categories: Air Conditioning