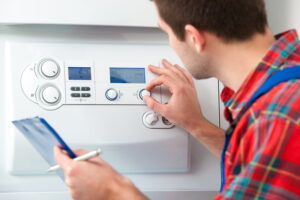 Having trouble with your furnace this winter? We know how frustrating this is. You want to come home from the chilly temperatures outside to a furnace system that heats your home quickly, effectively, and at a reasonable cost. We know that during the winter months it can be hard to achieve satisfactory heating. This is a high impact time for your heater, so problems with the efficacy of your system are bound to arise. If you're having problems and you need furnace repair in all DFW metroplex then contact our team—we're furnace experts.
What Constitutes "Trouble?"
Wondering what exactly defines "trouble" in this context? Here's are a few clear signs of trouble.
Short Cycling (your system turning on, running for a very short amount of time, shutting off, and starting again shortly after)
Excessively Dry Air in Your Home
Inconsistent Heating
Low Airflow
Your Furnace Makes Odd Noises
You Hear a Loud Boom Upon Start-Up
Your Furnace Emits an Unpleasant Odor
All of the things above are a problem. They're even a problem if you think they're happening on a small scale or they're something you can deal with throughout the heating season. These problems will only get worse if you don't address them, so make sure that you have a professional from our team service your system as soon as possible.
Here's the Problem
Got a problem running your furnace this winter? This could be the reason why:

Lack of Maintenance: Problems like low airflow or inefficient heating usually stem from a lack of maintenance. When you neglect to have a professional service your system then it allows problems to arise and become worse over time. Problems like a dirty blower or a clogged air filter are common side effects after a lack of maintenance.

A Faulty Thermostat: When you buy a piece of HVAC equipment like a furnace, you go into the purchase knowing that you'll have to replace this system within a decade or two. These types of systems can last for a long time. Technology moves quickly, however, so your furance could become outdated even during the peak of its performance. In fact, the same can even happen to your thermostat.

We come across so many homeowners with top of the line HVAC systems running alongside outdated thermostats. Make sure that you upgrade your thermostat too. It's important because it's the starting point for the rest of your system. Without a good thermostat, your HVAC system can never be great.

A Need for Replacement: If you're having a lot of trouble with your furnace then it might be time to replace your system. We understand that many homeowners are reluctant to have a full-on upheaval when it comes to their HVAC system because it's time-consuming, expensive, and costly, but if you're constantly undergoing repairs then this can help you save money. If you need help determining if it's really time for replacement or you need assistance with financing, contact our team.

Tags: Dallas, Furnace Problems
December 31, 2018 | Categories: Heating