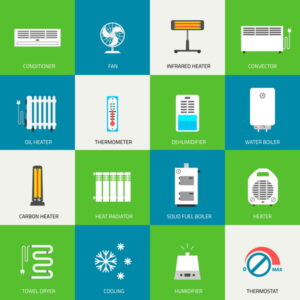 We're getting closer to the coldest part of the year here in Dallas, so make sure your heater is ready. Your heating system does more than just heat your home: it also directly impacts your home's indoor air quality too. If you've been battling against poor indoor air quality in your home, then it's time to upgrade to a new heater. Upgrading is always better than spending unreasonable amounts of money on repairs. If you're concerned about your heating system in DFW metroplex then contact our team today.
Understanding Your Indoor Air Quality
Do you understand indoor air quality? Indoor air quality is the quality of the air inside your home. Indoor air quality is affected by airborne contaminants, humidity, and the flow of fresh air. The best way to improve your indoor air quality is to keep your heating system in good shape and to keep your air ducts clean.
Indoor air quality is more and more of a concern today because of how energy efficient homes are today. While airtight homes are great to conserve energy, they're bad for indoor air quality. They prevent fresh air from getting in and contaminants will continue to circle around your home without an exit.
How a Forced Air Heating System Affects Your IAQ
If you have an old, inefficient heater in your home, or if you haven't had your air ducts cleaned in recent history, then your air quality is suffering. If your furnace system isn't well maintained your furnace is steadily decreasing in efficiency. Your system needs to be tuned up annually and if your ducts aren't cleaned often then dust, dirt, and grime will accumulate in them over time. These contaminants will continue to circulate until you have your system cleaned and can cause a variety of poor indoor air quality issues like:
Exacerbated allergy issues
Prolonged colds
Headaches
Worsened asthma
Excess dust
Decreased comfort/less heating power
We meet many homeowners who don't realize how much their heating system affects their indoor air quality. This is common because indoor air quality problems mask themselves as other problems. Maybe cold and flu season is just especially bad this year, the air quality in Dallas is especially bad this season, you're not drinking enough water or you're looking at your computer screen for far too long so you're getting increasingly common headaches. But don't explain away your problems!
Your indoor air quality affects the comfort of your home, so make sure that you're keeping it in the best condition possible. A new heating system in time for our chilly Dallas winter will keep your home warm at a low cost, improve your air quality, and increase your comfort in your home.
CityLine Air Conditioning Can Help
Are you confused about what heating system is best for your home? Don't know what make or model to go with? Having help calculating your heating needs? You should call our team. We've been working in the area since 2005, so we understand the needs of homeowners here. Our team is full of experienced professionals that will help you breathe easier this winter.
Need a new furnace? Contact our team here at CityLine Air Conditioning today.
Tags: Dallas, Heater Replacement
November 19, 2018 | Categories: Heating