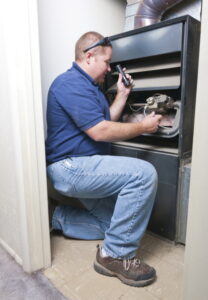 Winter is slowly but surely coming to a close in Dallas. When we get to this point in the season, you might notice that the cool temperatures in the past few months have really put your heater to the test. If you're experiencing problems with your heating system then it's time to call our team of professionals. There are many other problems other than the ones listed in the title of this post that are signs that you need heating repair. We understand that finding great heating repair services isn't always easy. When you're on the hunt for superior heating repair in all DFW metroplex, you can count on our team. We've served the Greater Dallas Area since 2005, so we really understand what homeowners here want. Don't hesitate to contact our team.
What to Watch Out For
Here are a few common problems that mean you need to call for heating repair services.
The Titular Offenders
Dust: This can be a hard offender to spot sometimes because dust is not a big problem to most homeowners—it's normally nothing more than a minor annoyance. Try to take the time to notice this problem though. If you're having to dust your home more often than you'd like to, it's a sign that your heating system is having trouble properly circulating air throughout your home. Try changing your air filter, and if this doesn't work, then it's best to call a professional from our team sooner than later.
Rattling (And Other Noises): Rattling is one of the biggest offenders when it comes to warnings signs that your heating system is on the fritz. There are other noises that indicate that you need professional care though. This includes banging, grating, squeaking, or clicking sounds. If the sound you're hearing isn't listed here, a good rule of thumb is that any ostensible noise other than the soft sound of air moving through your vents is a reason to call a professional.
Short Cycling: Short cycling is a term we use in the industry to describe your heater starting, running for a very short amount of time, stopping, and then repeating this process all over again. Short cycling is hard on your heating system and it puts a strain on your wallet too.
Other Common Issues
High Heating Bills: Do you wince every time you have to pay your heating bill? You shouldn't have to! If your heating bill is way too high this winter then contact a professional. We can tune up your heating system and lower your bill.
Unusual Smells: If you smell musty odors or burning smells in your home then it's time to contact a professional from our team. Musty odors mean that you have an excess amount of humidity while burning smells mean that you're having trouble with the electrical system in your home. No matter what the problem is, it's best to have a trained heating technician pinpoint the problem for you.
Low Air Quality: Are you constantly coughing, wheezing, or sneezing in your home? This is a sign that you have low indoor air quality. Low indoor air quality is a problem on its own but an even bigger problem because it can also affect the quality of your heater. Handle this problem sooner than later.
If you're ready to get rid of the heating problems in your Dallas home, contact CityLine Air Conditioning today. We're the right team for the job.

Tags: Dallas, Heater Issues, Heating Repair
March 25, 2019 | Categories: Heating


We Serve All DFW Metroplex Area
See if we serve your town: