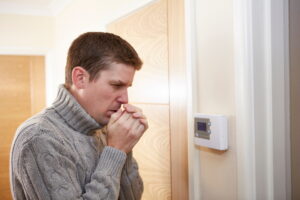 When you're having an issue with the furnace is your home, it's more than likely that your first move is to contact a team of service professionals in the area that you trust. This is completely understandable and a great way to ensure that your furnace is always up to par, but if you want to take things a step further, it's a great idea to try and understand why you're having the furnace problems you're having. Doing this will help you avoid any problems in the future too. If you're searching for a good HVAC service company to keep your home in good shape year-round, you can count on our team at CityLine Air Conditioning.
Problems and Their Causes
There are often a lot of problems that you can have with your furnace that you might not realize the source of. We're here to make things clear.
Your Thermostat is a Little Off
You're not crazy. If you feel like your thermostat displays a temperature that's inaccurate to the one in your home, it's more than likely that you're right. We're expert technicians, but ultimately, you live in your home every day and you know how things should feel. If your thermostat is inaccurate, it could be because it's out of date or because there are problems with your electrical connections.
Hot and Cold Spots
Does one part of your home feel scorching hot while another feels like you're going to get frostbite if you dwell in it for too long? There are surely going to be disparities in the temperatures across your home because of the size of it, the way it's built, and the ability for air to circulate through your home. You should never feel a concerning difference in the heating quality throughout your home though.
You Have Low Indoor Air Quality
Sometimes, you might not realize that you're coughing, sneezing, and just generally feeling lethargic because of the low air quality in your home. Low indoor air quality has a way of making your home feel like it's always cold, flu, or allergy season. If you find that the more you run your heater, the worse you feel, it's probably because you haven't changed your air filter in a while. Air filters trap harmful contaminants, but if they're changed infrequently, they'll just circulate these contaminants endlessly.
Odd Sounds
Are you hearing weird noises coming from your furnace when it runs? Unfortunately, the problem that you're having is determined by the noise your hearing and they can be vastly different. If you want a definitive answer to your question, it's important to have a professional come out to your home and examine what's going on. Describing the noise over the phone won't suffice!

It's great to know what the furnace problem you're having in your home means, but it's even better to have this problem solved so that you can stay warm in your home. If you need great service in Dallas, make sure you call our team at CityLine Air Conditioning.

Tags: Dallas, Furnace Problems
April 8, 2019 | Categories: Heating