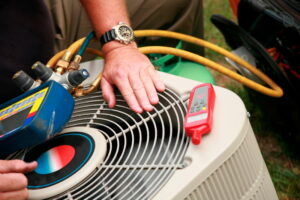 We're at the height of summer now and we still have a long road ahead of us. The very last thing that you want to deal with now is a broken air conditioner. A broken air conditioner in heat like this is sure to cause a headache and cost you a pretty penny in emergency repair services.
We deal with it all here in Texas—blazing heat and high humidity. You need a great air conditioning system in your home to cool you. If you find yourself dealing with a finicky air conditioning system, don't hesitate to contact our team for air conditioning repair in Dallas, TX. If you want to learn why your air conditioner has taken a nosedive this year, keep reading below.
Why Your Air Conditioner Has Fallen Off
We know you're not an HVAC professional and we don't expect you to be—that's why we're here. There are many reasons why your air conditioner might not work properly this season, including the following:
Leaking Refrigerant
Refrigerant is an essential component in your air conditioning system. Air conditioning systems require a certain amount of refrigerant to cool a home. Your air conditioner can never "run out" of refrigerant because this isn't the fuel source for your AC system. If you notice that your air conditioner starts leaking refrigerant, then it's time to contact our team for repair services. You don't want to let this problem progress to the point of a breakdown.
A Poor AC Filter
When was the last time that you replaced or cleaned your air conditioning filter? If you can't remember or have to count on your fingers and toes to accurately guess, then it's time to replace your filter now. Your air conditioner's filter is in charge of keeping your air conditioner clean and free of debris—this is a big task to take on for any air conditioner, but especially for an air conditioner that has to battle Texas heat. We recommend that you change out your air filter once a season to avoid any trouble.
Thermostat Trouble
Sometimes your air conditioner problem isn't even the fault of your air conditioner! On occasion, it might actually be the thermostat in your home. It becomes extremely difficult to achieve the desired temperature in your home if your thermostat is calibrated incorrectly. You might experience incomplete cycles or cycles that run entirely too long.
You need a professional to solve this problem for you. Thermostat issues are an HVAC problem that bleed over into electrical work. Only our professionals have the expertise to perform these services quickly, efficiently, and safely.
Choose Our Team
Invest in your home with the right care for your air conditioning system. Trying to troubleshoot these problems on your own can quickly lead to dangerous problems and it can even make your air conditioning problem worse. Make sure that you contact us when you need air conditioning services you can count on.

Contact CityLine Air Conditioning today to schedule an appointment with our professionals.

Tags: air conditioning repair, Air Conditioning System, Dallas
July 29, 2019 | Categories: Air Conditioning