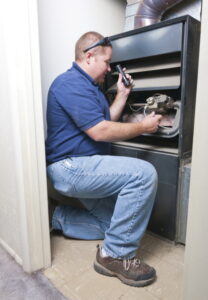 The leaves are starting to change, you're beginning to see your breath in the air during those early hours of the morning, and you're fishing out those heavier layers of clothing to stay cozy throughout the day. We're full swing into fall! It's the perfect time for you to schedule an appointment with our team members for furnace maintenance in all DFW metroplex.
We meet a lot of homeowners who are a little hesitant to schedule a furnace maintenance appointment because they don't understand the benefits of a service like this. Furnace maintenance is one of the best things that you can do for your home comfort. Make sure that you schedule an appointment sooner rather than later and keep reading below to learn about how a service like this can help you.
The Benefits of Furnace Maintenance Services
So what are the benefits of something like furnace maintenance? Let's get into the details below:
It Keeps Your Comfort High
What's more important than staying warm in your home during a Texas winter? We know that our neighbors up north scoff at our cold temperatures but "cold" can really be relative. If you're chilly in 50°F weather, then you're chilly in 50°F weather and you need a furnace system that's going to help you get through the season. Furnace maintenance helps you avoid a breakdown and keeps the heater's efficiency high.
It Keeps Your Bills Low
A highly efficient furnace maintenance system is a furnace system that's going to be reasonable in price. If you want to keep your heating bills low, you need to schedule a furnace maintenance appointment each and every fall. This is the best way to ensure that you have a system that's tuned-up to perfection. We'll lubricate all the furnace's moving parts and ensure that everything in the best shape possible for the winter ahead.
It Increases the Lifespan of Your Heating System
Your heating system is an investment any way that you slice it. You spend a lot of money finding a new furnace for your home and having a professional team install it. Don't you want your heating system to last well into the future because of this? If you do, it's time for you to schedule an appointment with our professionals for heating maintenance services. We're going to make sure that your heater lasts as long as possible.
Call us when you're ready to schedule an appointment for furnace maintenance.
Don't Call an Amateur, Call Us!
We make sure to treat your home with care when we perform any type of service. When you come to us, you'll know that you're getting furnace services that are a little bit different because we're a family-owned and operated team that cares deeply about the work we perform. We've worked in all DFW metroplex area since 2005 so we've got years of experience working on homes just like yours. We're going to perform the services that you need to keep you comfortable.

Contact CityLine Air Conditioning today to schedule an appointment with our professionals. We'll get your furnace services right.

Tags: Furnace Maintenance, Plano
November 18, 2019 | Categories: Heating