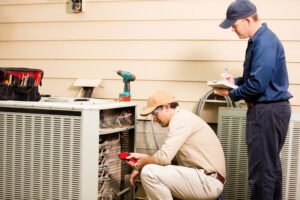 So you've made it through an entire summer with your air conditioning system and now you're absolutely sick of it. You can't imagine getting through another summer with this current system and you're ready to install a new air conditioning system. But where do you start? Well, if you want great DFW metroplex AC installation services, make sure you start with our team at CityLine Air Conditioning. We're the professionals that you need.
We're going to make sure that you get the air conditioning services that you require. We're a family-owned and operated team here in all DFW metroplex that's worked in the area since 2005. We know what to do to get your home in the best shape possible. We have a 100% satisfaction guarantee and we stick to it. Come to us when you want AC installation that's going to keep your home cool.
The Importance of Installation
We're air conditioning professionals who work on HVAC systems every single day. We're sure that you understand the general framework surrounding your air conditioning system, but we want to take the time today to underscore the importance of one particular service—installation. Installation is one of the most important things that you can have done in your home.
Installation is the foundation of your home's air conditioning system. If you only remember one thing after reading this blog make sure that it's this. Air conditioning installation sets the tone for the lifespan of your entire air conditioning system. If you have a shoddy air conditioning installation job, you're setting yourself up for failure. You're going to experience various different air conditioning problems throughout the lifetime of your air conditioning system. A bad air conditioning installation job can cause the following:
Inefficient cooling
High air conditioning bills
Insufficient airflow
Constant breakdowns
A shortened air conditioner lifespan
Thermostat sensor failure
Drainage problems
You don't want to struggle with these types of air conditioning problems in your home. So make sure that your air conditioning installation services are great with the expertise of our team. We're sure to get the job done right.
You Need Professional Care
Make sure that you get professional care from the members of our team here at CityLine Air Conditioning. We know that you've got the power of the Internet at your fingertips pretty much anywhere you go, and you might think that it's a great idea to try to DIY your home's air conditioning installation services. But trust us, this isn't the route that you should take.

You want to make sure that you get the best installation services possible by trusting a professional to do the work. We have the right training, licensing, expertise, and experience. We know how to do the work that you need to keep your home in great shape. We're committed to energy efficiency. We're not going to try to shortchange you. We're going to give you the most efficient air conditioning services possible.

Contact CityLine Air Conditioning today to schedule an appointment with the professionals on our team.

Tags: AC Installation, Plano
September 9, 2019 | Categories: Air Conditioning